Make Harnessing trouble a thing of the past with the new KING II LS group 1 seat from BRITAX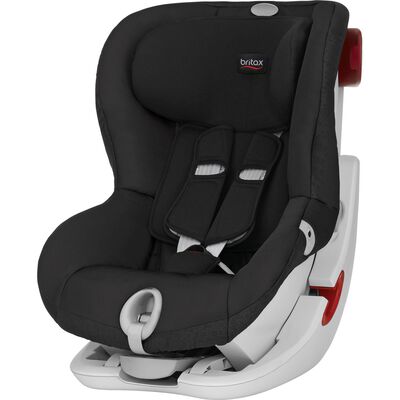 Today, BRITAX unveils its latest Group 1 belted seat, the KING II LS. The seat features an innovative harness indicator, a clever little light that helps parents to find the correct harness tension for a safe and comfortable journey.

Many parents worry about reaching the correct tension for harnessing their child. It's a tough dilemma for parents, as on the one hand you want your child to be secure, but on the other you want to avoid tantrums in the car by ensuring little ones are comfortable while travelling. But the reality is that correctly harnessing your child is essential to reducing the risk of injury in a crash situation, so BRITAX's unique light system helps parents to find the correct harness tension before setting off in the car.

The innovative KING II LS seat also includes all the important safety features you'd expect from a BRITAX product, including:
- Five point harness with one pull adjustment, ensuring full 360 degree protection for children in the event of a crash
- Deep, softly padded full side wings which provide optimum Side Impact Protection for your child along the entire seat
- Performance chest pads, designed to reduce your child's forward movement and energy that occurs in the event of an impact

Many cars on the roads today still do not have ISOFIX connection points, so a premium belted option is imperative for those parents looking for a seat that is simple and easy to
fit with the latest safety features. If a seat is not correctly fitted, your child is not as safe as they could be in the event of a crash. The iconic KING design allows tipping of the seat for easy seat belt routing and ensures less risk of incorrectly feeding the seat belt. This coupled with clever patented seat belt tensioning ensures there is no slack in the seat belt and a perfect, solid fit of the car seat to the car.

Bengi Bingol Yalcin, Marketing Manager at BRITAX remarks, 'We have been listening to parents needs and wants for many years and having peace of mind that your child is safe throughout the entire journey is of paramount importance. We are so excited to be able to offer those parents who don't have ISOFIX fittings in their cars, such a sturdy seat with the latest safety features available.'

The KING II LS is available exclusively through Kiddicare.com at a price of £165.

-ends-

Notes to editors
For more information about BRITAX, please contact Threepipe
Email: britax@threepipe.co.uk

About BRITAX
BRITAX has been manufacturing child car seats and travel systems since 1939.BRITAX has design centres and testing houses in Germany and the UK where designers and engineers use state-of-the-art facilities to pioneer innovative products and set safety standards, such as ISOFIX technology. The expertise BRITAX develops is regularly shared with governmental and safety experts worldwide.
Top European test organisations, such as independent motoring and consumer organisations consistently rate BRITAX amongst the best - and constantly exceed legal safety requirements. 80% of all cars rated by Euro NCAP in 2011 have tested with at least one of our seats during their independent crash test assessments.

BRITAX Fit FinderTM
Fit Finder is a Britax online tool that assists a consumer to identify the right seat for their child and their car. The newly updated function allows parents to narrow their car seat search by the age and weight of their child as well as the make, model and year of the vehicle. For each seat, Fit FinderTM will also inform users what seat positions are approved in the vehicle and the appropriate fitting method - be it the ISOFIX, ISOFIT or via the car seat belt. You can view the latest Fit FinderTM here http://www.britax.co.uk/car-seats/fit-finder