BRITAX introduces ground-breaking harness tensioning technology to the market with the KING II ATS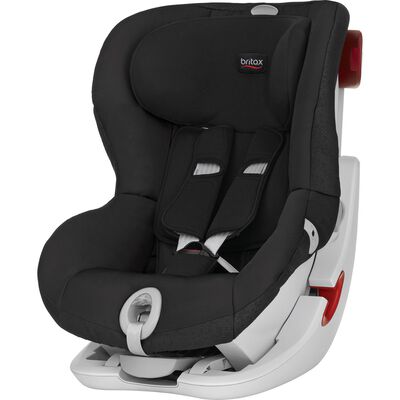 London, December 2014 - Britax, leaders in child mobility, has launched its latest Group 1 belted seat, the KING II ATS, to help parents travel with greater confidence and keep their eyes on the road ahead. The advanced seat, suitable for children aged 9 months - 4 years (9kg- 18kg) actively watches over a child throughout their journey thanks to a revolutionary safety system that checks, adjusts and monitors the harness tension automatically.
Checks: Ensuring little ones are safe from the word 'Go!'
KING II ATS features an intelligent light and sound indicator that helps parents to find the correct harness tension before they set off in the car. A green light and sound alert will reassure parents their children are secure and harnessed correctly giving them the freedom to make their journey safely.
Adjusts: Introducing ATS technology
Toddlers often wriggle around when parents strap them into their car seat, meaning the harness might not necessarily be as tight as it should be from the offset. However, KING II ATS features a unique Active Tensioning System (ATS), which automatically adjusts and retracts the slack in the child's harness to keep tension just right throughout the journey.
Alerts: Informing parents of any issues
As a final safety feature for parents, KING II ATS also features an intelligent warning system that alerts parents with a sound and light indicator if the harness is undone or no longer at the correct tension because the automatic retraction system might be at the end of its working range and cannot compensate any additional slack in the harness. The seat will sound an alert and flash a red warning light, indicating the parent should check the harness when it's convenient to pull over.
This clever combination of checks, combined with the patented tensioning system for easy installation with the car's 3-point seat belt, gives families the freedom they need to travel together safely and parents the confidence to keep their eyes on the road.
The innovative KING II ATS also features:
Deep, softly padded full side wings which provide optimum Side Impact Protection for your child
Height-adjustable headrest and harness with easy single-handed adjustment which allows the seat to grow with your child without the need to remove and re-thread the harness
Batteries inside the Light System are included with the seat and expected to last for the full product life time (approx. 7 years) under normal consumer usage
Frank Heiligers, Head of Car Seats atBritaxsaid, "We know that modern families are busier now more than ever, so it is our mission at Britax to make travelling with children as easy, fun and stress free as possible, enabling families to discover everyday family freedom. That's exactly what we've tried to achieve with KING II ATS, a seat that works with parents to keep little ones safe while on the move. With so much to think about when venturing out with the children, KING II ATS is designed to offload some of that worry, so parents can travel with confidence knowing this intelligent seat has it all covered."
KING II ATS is now available exclusively from Mothercare at RRP £180 in Black Thunder.
-ENDS-
Notes to Editors:
For more information about Britax, find your freedom at: www.britax.co.uk or find Britax onhttps://www.facebook.com/BritaxUK.
About Britax
Britax is a global leader and innovator in child mobility dedicated to making family travel safer and easier throughout the journey of parenthood. Specialising in a complete range of premium car seats, strollers, baby carriers and accessories that meet modern family lifestyle needs, Britax's mission is to inspire families to travel more freely, confident of safety, sure of style.
Britax was founded in Britain in 1938 focusing initially on safety developments such as adult seat belts. In the 1960s they launched the company's first child car seat. In 1978, it merged with established German car safety counterpart Römer. More recently, Britax acquired the hugely popular outdoor stroller brand BOB in 2011 and the BRIO pushchair and car safety business in 2013.
Now Britax maintains offices in 12 countries, operates in almost all countries globally and employs more than 1000 people.
For more information about BRITAX please contact Threepipe:
Tel: 0207 632 4800
Email: britax@threepipe.co.uk