Step out instyle with the new BRITAX SMILE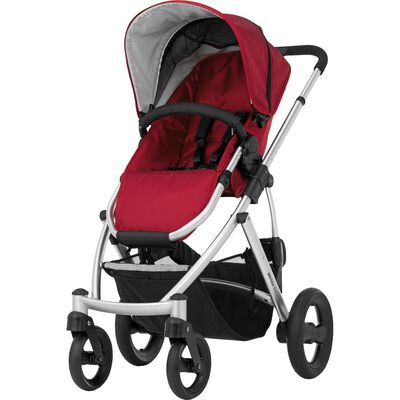 UK, February 2015- Never have enough space for all of your baby gear and shopping when you're out and about? Looking for something stylish that will fit in with your busy lifestyle? Then Britax, leader in child mobility, has the perfect stroller for you. The all-new, sleek and practical BRITAX SMILE is the ideal every day pushchair for busy parents on the go. Designed with modern families in mind, this cleverly crafted stroller provides parents with the freedom to look and feel great whilst having a pushchair to support them on the move.
Everyday Family Freedom starts with a Smile
Britax is committed to enabling every day family freedom for parents. With so much to think about when venturing out with children, the new BRITAX SMILE pushchair offers a stylish travel solution for parents looking for a pushchair that will make getting around with baby a breeze - whether it's a trip to the shops, an evening stroll or a country picnic on a sunny summer's day.
The BRITAX SMILE features a spacious shopping basket that is perfect for storing all-important baby essentials and the toys children can't do without, as well as those little shopping treats for mum and dad too. The stroller also features 3M Scotchlite™ reflective stripes on the basket. This simple yet effective feature means the stroller can easily be spotted by other pedestrians and cars in low light, giving parents the freedom to take a stroll with baby come day or dusk. What's more, the air filled rear wheels ensure a comfortable and smooth ride, even on bumpier surfaces.
Other handy features include a multi-position recline, including forward and rearward facing seating options, which allows parents to maintain eye contact with their little ones, as well as a ventilation window in the hood that will keep children comfortable on warm and sunny days.
The BRITAX SMILE will be sold with a matching carrycot, which can easily be attached to the stroller using the integrated Click & Go® adaptors, making it suitable from birth to approximately 3 years old (up to 17kg). What's more, the adaptors are also compatible with the award-winning BABY-SAFE plus SHR II infant carrier, which was given a Best Buy status by consumer testing experts, Which?, providing comfort and ease when moving your little one out of the car and onto the stroller so families can be on the move in a flash.
Moritz Walther, Business Unit Manager Travel Systems at Britax, comments, "We understand that getting out and about with a baby in tow can sometimes be a struggle for many parents. Juggling a wriggly baby, changing kit and shopping bags can be a challenge, so we wanted to launch a versatile pushchair to make travelling with children as easy, fun and stress free as possible. Families are looking for travel solutions that fit into their unique and varied lifestyle and the BRITAX SMILE is designed to do just that, making parents free to enjoy family life without limits."
The BRITAX SMILE is now available from leading nursery retailers at an RRP of £590, inclusive of carrycot, in Black, Navy, Red and Silver.
-ENDS-
Notes to Editors:
For more information about Britax, find your freedom at: www.britax.co.uk or find Britax onhttps://www.facebook.com/BritaxUK.
About Britax
Britax is a global leader and innovator in child mobility dedicated to making family travel safer and easier throughout the journey of parenthood. Specialising in a complete range of premium car seats, strollers, baby carriers and accessories that meet modern family lifestyle needs, Britax's mission is to inspire families to travel more freely, confident of safety, sure of style.
Britax was founded in Britain in 1938 focusing initially on safety developments such as adult seat belts. In the 1960s they launched the company's first child car seat. In 1978, it merged with established German car safety counterpart Römer. More recently, Britax acquired the hugely popular outdoor stroller brand BOB in 2011 and the BRIO pushchair and car safety business in 2013.
Now Britax maintains offices in 12 countries, operates in almost all countries globally and employs more than 1000 people.
For more information about BRITAX please contact Threepipe:
Tel: 0207 632 4800
Email: britax@threepipe.co.uk